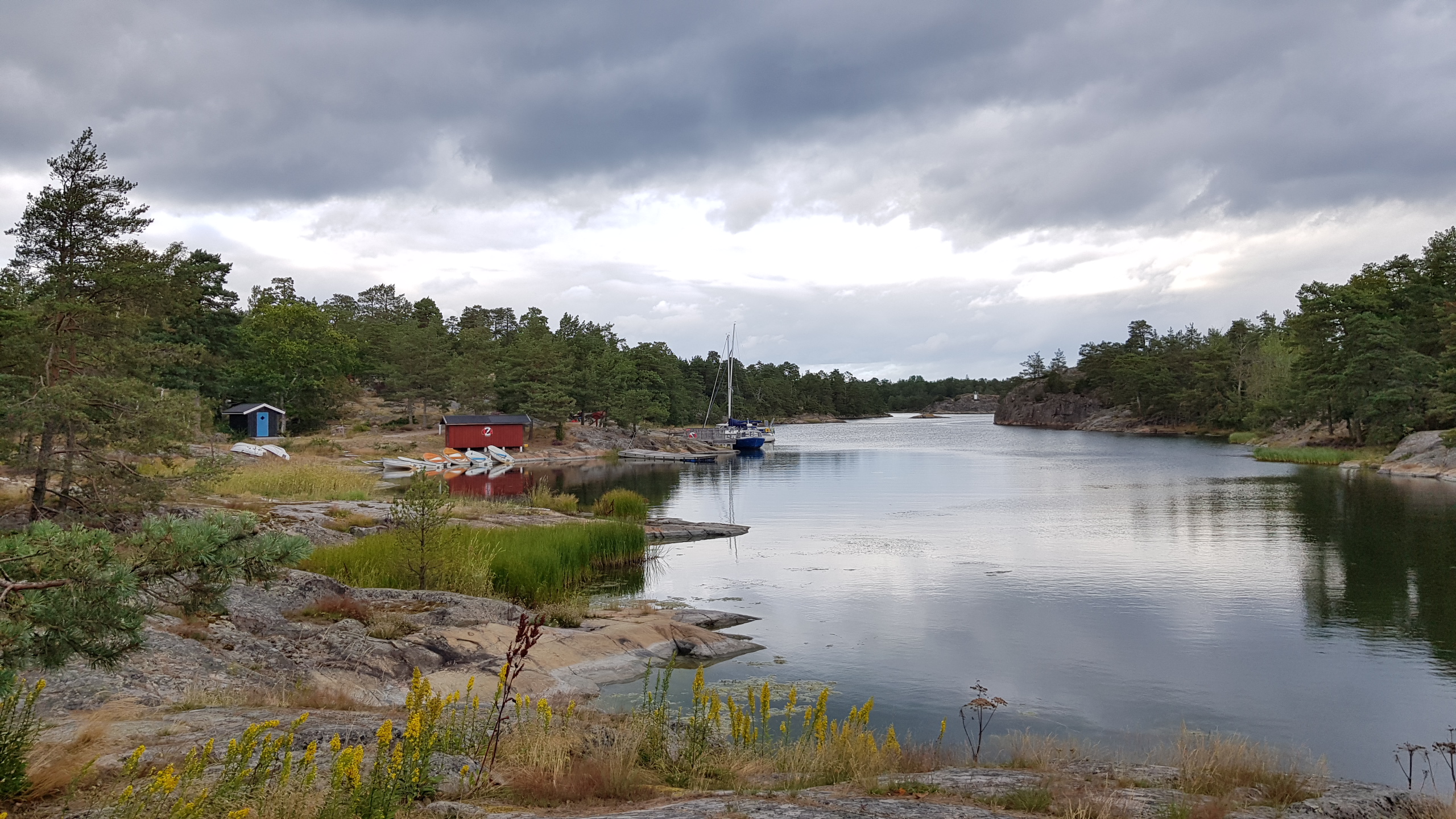 Welcome to our beautiful island
What fun that you are interested in visiting us! Here is a little more information that will allow you to make the most of your visit. Welcome back!
INFORMATION BEFORE YOUR STAY WITH US
On Ämtö there are twelve cottages of 20 sqm each and space for 4 people. The cottages have heating and a stove with oven, refrigerator with freezer compartment and bed and kitchen equipment. Shower and toilet are available in nearby service houses. Four of the cottages are to some extent adapted for the disabled. No smoking in all cottages. Fresh water is available at taps outside the cottages.
Check-in from 13:00 on the day of arrival and check-out no later than 11:00 on the day of departure.
Skärgårdslinjen - Boat transport from Fyrudden
The archipelago line runs every day of the week between Fyrudden and Ämtö (June 21 – August 27). At 10.00 the boat departs from Fyrudden to Ämtö. The trip back Fyrudden departs at about 15.35 from the bridge on Ämtö.
Booked at www.skargardslinjen.com and costs 170 SEK / person one way (cash payment, children under 12 half the price).
Here you can read more about the archipelago company:
If you book your cottage with more than a week left until the day of arrival, you get back the full amount except SEK 500 in cancellation fee. If you book your cabin with less than a week left until the day of arrival, you will not receive anything back.
On weekdays, Östgötatrafiken also runs to and from Ämtö, a suitable trip departs at 15.25 from Fyrudden. On Sundays there is only an tour in the afternoon, it departs at 15.00 from Fyrudden. Since it is order traffic, you do not know in advance how long the trip will take (about 30-60 minutes is normal).
Östgötatrafiken's tours must be booked no later than 18.00 the day before on telephone number 0771-711020 (Line 776 to Ämtö Stugby, jetty 2) and costs SEK 45 / person (only card payment, cheaper for children). For the return trip there is no fixed departure time but you get it when you book, suitable tours are one that leaves Ämtö just before 9 or one that leaves after 14 o'clock. On Sundays it departs from Ämtö sometime after 16 o'clock
Here you will find the complete timetable: Timetable line 776
The rubbish is put in rubbish bags and then thrown in the rubbish bin down by the harbor. In the garbage house there is also some garbage sorting (metal, glass, deposit and other / mixed).
Our parking spaces are located a few 100 meters before Fyrudden (at Snäckuddevägen). Places 1-12 are our places, stand on the one with the lowest number that is available. When you book a cabin / parking space, state your registration number.
Child-friendly swimming is right next to the cottages, at the swimming area there is also a swing set. There is free fishing with hand gear in the archipelago, but note that within Väggö nature reserve (northern part of the island) there is a ban on staying on land and 100 meters out from the beach. Swimming opportunities are available in several other places along the island's beaches. There are also marked nature trails with information about flora, fauna and the island's history.
If you want to visit Harstena and eat at the restaurant there, it also goes well on Wednesdays. Then you go about 16.20 (home about 21.00) on Wednesdays to Harstena (it is the same boat as the seal safari trip, but you hop off at Harstena). The trip costs SEK 250 per person ToR. Booking is made on 0760 – 775550. Children under 12 years half price.
SAUNA, ROWING BOATS AND COLLECTION COTTAGE
At the cottage village there is also a wood-fired sauna and a gathering cottage with TV. The sauna can be booked in a 3-hour session and three hours cost SEK 300. Alternatives: 9-12, 12-15, 15-18. 18-21 or 21-00. Book here!
The rent includes a rowing boat that you share with the cottage neighbor. Life jackets are available to borrow. It is also possible to rent kayaks.
A simple meeting house is located near the kiosk. Your cabin key also fits in the collection cabin.
On Wednesdays between 2 July and 20 August, it is possible to accompany a seal safari out to Sandsänkans lighthouse at the far end of the sea band. The tour also includes a stop at nearby Harstena. The boat departs at about 16.20 on Wednesdays from the pier on Ämtö and you are back again at about 21.20. Booking is made on 0760 – 775550 and the price is SEK 800 per person. Children under 12 years half price.